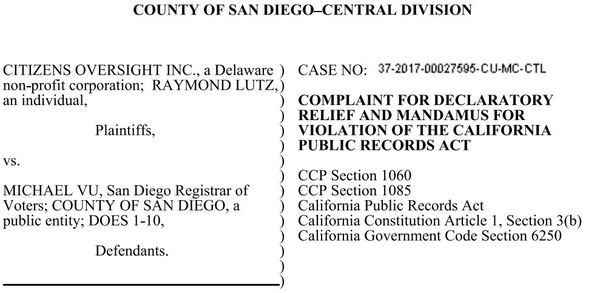 Ballot Access Lawsuit
Direct link to this page:
http://copswiki.org/Common/BallotAccessLawsuit
Background
This lawsuit was filed due to our request to view ballots was denied by the Registrar of Voters, Michael Vu. The goal of this request and the first few rounds of request are found here:
We suspect possible tampering of the Early VBM ballots in the 2016 Primary election -- the only ballots where Clinton won over Sanders. All other ballot categories (polling places, Later VBM and Provisional) Sanders was the winner. Election officials must preserve the ballots for 22 months after the election. But they claim also that they are "sealed" and no one can see them. However, there is no dispute that these are public records and there is no specific exemption for voted ballots, and there is no voter-identifiable information on them. We believe the seal is only to preserve the ballots, not keep them from public review. As of Friday, October 6:
The county responded to our complaint with a demurrer, which challenges the legal basis of our complaint. We filed an opposition to the demurrer and now we will have a hearing on Oct 13 2017, in this preliminary phase. If we win, then the case proceeds, and the county will have to respond to our complaint in full. As of Friday, October 13
Hearing on the demurrer resulted in the court SUSTAINING it, with prejudice. That means the next step is to appeal it.
Timeline
2017-07-25 -- Lawsuit officially filed.
2017-07-31 -- Notice of similar case -- referenced Election Audit Lawsuit.
2017-08-04 -- County files "DEFENDANTS' OBJECTION TO NOTICE OF RELATED CASES"
2017-09-11 -- County files demurrer
2017-09-26 -- Opposition to demurrer filed by Plaintiff
2017-10-12 -- Tentative Ruling (Sustaining Demurrer)
2017-10-13 -- Court hearing scheduled for 10:30am, Dept 66 (Hon. Kenneth J. Medel) - No changes to tentative ruling. Judge indicates he expects this to be appealed.
Documents
If the document does not display above, click
here
Appeal
This case was appealed to allow the appellate court to decide if the CPRA law should allow citizens to access ballots.
Special Request for Amicus Briefs
The time window for this opportunity has passed. This included only for historical reference. If you are associated with an Election Integrity Organization, or generally have an interest in open government, we hereby request that you file an AMICUS BRIEF to support the access of paper ballots by the public based on the CPRA law and related constitutional amendment that says that existing laws should be interpreted narrowly, in favor of access. Other states (such as Florida, Ohio and New York) allow access of paper voted ballots by way of a public records request. Please see the documents above, particularly the
Demurrer Points and Authorities
and the
Opposition to Demurrer
to gain an understanding of the positions. Essentially, the County says they can't allow access because they are sealed. Our position is that "sealed" does not mean no one can look at them, it only means the County will not continue to manipulate them. We believe that given that other states DO allow access by public records law, that there is no sound rationale to keep them sealed, and thus access should be given based on the intent of the CPRA law and the related constitutional amendment. If this approach does not work, then we will need to pursue a legislative approach to change the law to allow review of voted ballots. The Amicus Briefs should be prepared by an attorney with familiarity in the art. Please contact
RayLutz@citizensoversight.org
if you can make this happen! Direct link to this page:
http://copswiki.org/Common/BallotAccessLawsuit
Summary of articles submitted (Add | All):
Discussion List
See
List Serve
for all email discussion lists and to add more.