Stop ALEC Fest
Direct link to this page:
https://copswiki.org/Common/StopAlecFest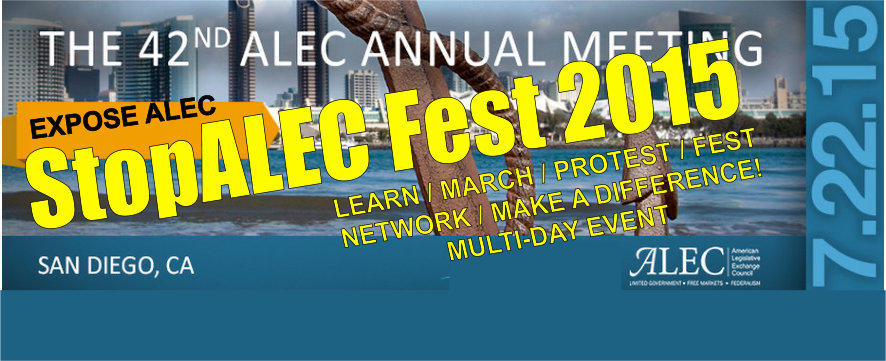 Latest News
Background
Activists will converge from around the nation to the Stop ALEC Fest 2015 in San Diego, July 22, 2015 near the Convention Center (THIS EVENT LASTS From Wed July 22 to Friday July 24 -- exact time of our festivities still under discussion!) Help this event happen in San Diego! SPEAK OUT AGAINST THE CORPORATE ELITE THAT HAVE THEIR WAY WITH OUR DEMOCRACY... PLEASE JOIN THIS EVENT AND SHARE IT NATIONWIDE! CONVERGE ON SAN DIEGO THIS YEAR TO EXPOSE ALEC AND THEIR MALFEASANCE! Through the secretive meetings of the American Legislative Exchange Council, corporate lobbyists and state legislators vote as equals on 'model bills' to change our rights that often benefit the corporations' bottom line at public expense. ALEC is a pay-to-play operation where corporations buy a seat and a vote on 'task forces' to advance their legislative wish lists and can get a tax break for donations, effectively passing these lobbying costs on to taxpayers. Along with legislators, corporations have membership in ALEC. Corporations sit on ALEC task forces and vote with legislators to approve "model" bills. They have their own corporate governing board which meets jointly with the legislative board. (ALEC says that corporations do not vote on the board.) Corporations fund almost all of ALEC's operations. Participating legislators, overwhelmingly conservative Republicans, then bring those proposals home and introduce them in statehouses across the land as their own brilliant ideas and important public policy innovations—without disclosing that corporations crafted and voted on the bills. ALEC boasts that it has over 1,000 of these bills introduced by legislative members every year, with one in every five of them enacted into law. ALEC describes itself as a "unique," "unparalleled" and "unmatched" organization. We agree. It is as if a state legislature had been reconstituted, yet corporations had pushed the people out the door.
Images
Timeline
Summary of articles submitted (Add | All):
Discussion List
See
List Serve
for all email discussion lists and to add more.
| | |
| --- | --- |
| Project Name | Stop ALEC Fest |
| Project Description | Event near the ALEC national conference. |
| Project Founder | Ray Lutz |
| Project Curator | Ray Lutz |
| Project Type | Issue Oversight |
| Project Parents | |
| Related Keywords | |
| Project Status | Closed |
| Thumbnail Link | |
| Forum Link | |
| List Serve Topic | |