Election Audit Oversight for 2018 Primary Season
Citizens Oversight (2018-06-01) Ray Lutz
This Page:
https://copswiki.org/Common/M1851
More Info:
Snapshot Protocol
,
Snapshot Protocol

Imagine if run a company of professional drivers, and their vehicles are equipped with a "black box" which provides a report of how well they have been driving. Each driver is required to audit his own driving, by taking the computer report out of the box and using that to make the report. The audit requires that the driver randomly select 1% of the days out of the prior year and then report if they ever went over the speed limit. Now, if no one is watching, then you can expect that almost all the drivers will just adjust the numbers to show that they were all perfectly within the speed limit on those days. And since they can see the report, they can just "randomly" choose days that were those "good days" when they drove always under the speed limit and avoid any days with violations. So this sort of audit is basically completely worthless. And it is almost exactly comparable to the worthless audits being done by election officials. However, if we have someone WATCHING the audit, then it can be much, much better. There are a few key things we must do.
we must get a copy of the computer report BEFORE the random selection.
we must watch the random selection to make sure it is squeaky clean, using dice for example, and not just choosing the good ones.
Take a look at the report and compare it ourselves to the original computer report to see if there was any cheating on the audit.
See
Random Draw Oversight
for details on the random draw. This analogy is almost a perfect match to the 1% manual Tally audits being done in California and some other states. Not all states do election audits, and no two states are the same.
2018 Primaries
The primaries in 2018 are as follows, where underlined states reportedly have some sort of audit (and these vary!)
Highlighted
states, we have fully implemented in at least some districts.
| Date | States |
| --- | --- |
| 2018-03-20 | IL |
| 2018-05-08 | IN, NC, OH, WV |
| 2018-05-15 | ID, NE, OR, PA |
| 2018-05-22 | AR, GA, KY, TX |
| 2018-06-05 | AL, CA, IA, MS, MT, NJ, NM, SD |
| 2018-06-12 | ME, NV, ND, SC, VA |
| 2018-06-26 | CO, MD, NY(fed), OK, UT |
| 2018-08-02 | TN |
| 2018-08-07 | KS, MI, MO, WA |
| 2018-08-11 | HI |
| 2018-08-14 | CT, MN, VT, WI |
| 2018-08-21 | AK, WY |
| 2018-08-28 | AZ, FL |
| 2018-09-04 | MA |
| 2018-09-06 | DE |
| 2018-09-11 | NH |
| 2018-09-12 | RI |
| 2018-09-13 | NY(state) |
| 2018-11-06 | LA(runoff 12/8) |
California: Random Selection Meeting (We need volunteers!)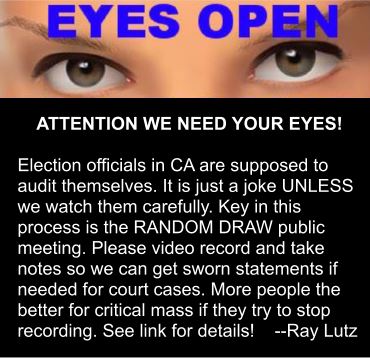 Share this Meme! Most important is the Random selection meeting. We need to get a MUCH larger number of the public attending and watching these! We need to video record, and if they say you can't do it, we need to PUSH THE ISSUE, because this is a public meeting and under the
Brown Act
, cameras and video recording is allowed. We will be targeting the most populous 24 counties in CA, which comprises more than 92% of the vote and includes (at least part of) all congressional districts. However, if you want to do any of the other 34 counties, please let us know so we can include you in the team.
These dates are still being confirmed. Please DOUBLE CHECK the date AND location
. We already notified all counties that volunteers may attend.
Date
Time
County
Rank
Location Notes
Volunteers
Video?
Notice
Method
Comment
2018-06-06
11:00am
Contra Costa
9
555 Escobar Street
Martinez, CA 94553
Scott says it is difficult to find on the web site. In November will post it on the home page 1 week ahead of time. Currently the county puts out a press release, puts in local newspaper and in the office.
2018-06-06
10:00am
Placer
18
2956 Richardson Drive
Auburn, CA 95604
NoticeURL
2018-06-06
10:00am
Sacramento
8
7000 65th Street, Ste A
Sacramento, CA 95823-2315
Justin LeBlanc
Challenge!
NoticeURL
2018-06-06
10:00am
Ventura
12
800 South Victoria Avenue, L-1200
Ventura, CA 93009-1200
(go to the 1st floor) Does not post online but in local newspaper and in the office. Random draw is always 2 days after the election at 11:00 a.m. The 1% manual tally is always the Monday after the elction at 9:00 a.m. (conflict of info)
2018-06-06
2:00pm
San Diego
2
At ROV office
5600 Overland Avenue
San Diego, CA 92186-5656
Ray Lutz, Susan Schnieder, Madge Torres, Arturo Torres
YouTube
NoticeURL
Digits Drawn using Ping-pong balls
2018-06-07
9:00am
Riverside
4
2724 Gateway Drive
Riverside, CA 92507-0918
NoticeURL
2018-06-07
9:00am
Sonoma
16
435 Fiscal Drive
Santa Rosa, CA 95406-1485
Bonita Stjulienlepauvre
No
Not Random!
See description below. Does not post notice on web site, only in the front of its building and in its office.
2018-06-07
10:00am
Santa Cruz
24
701 Ocean Street, Room 210
Santa Cruz, CA 95060-4076
List of Events
Time and location provided
2018-06-07
10:30am
San Bernardino (polls)
7
777 East Rialto Avenue
San Bernardino, CA 92415-0770
Ana McNaughton
ten-sided dice
2018-06-07
11:00am
Orange
3
1300 South Grand Ave., Bldg. C
Santa Ana, CA 92711
NoticeURL
2018-06-07
11:00am
Santa Barbara
20
4440-A Calle Real
Santa Barbara, CA 93160-1510
NoticeURL
2018-06-07
11:00am
Stanislaus
17
1021 I Street, Suite 101
Modesto, CA 95354-2331
Does not post on web site, only in the lobby! I suggested that it be posted on the web site so I don't have to call and get yelled at by Lee.
2018-06-11
9:00am
Fresno
11
2221 Kern Street
Fresno, CA 93721
(draw was done on 6/7)
Important!
NoticeURL
GEMS system
2018-06-11
2:00pm
San Luis Obispo
22
Tommy Gong
1055 Monterey Street, Room D-120
San Luis Obispo, CA 93408
805-781-5080
tgong@co.slo.ca.us
Ray Lutz Jill Lutz
Video
NoticeURL
Raffle using slips of paper.
Missing three precincts.
2018-06-12
9:00am
Kern
14
1115 Truxtun Avenue
Bakersfield, CA 93301
Ray Lutz Jill Lutz
NoticeURL
(draw was done on 6/11)
FB Live trying to get in
2018-06-13
2:00pm
San Bernardino (VBMs)
7
777 East Rialto Avenue
San Bernardino, CA 92415-0770
Ana McNaughton
NoticeURL
ten-sided dice
2018-06-13
8:00am
Monterey
21
1370 S. Main St # B
Salinas, CA 93912
2018-06-13
10:00am
Los Angeles
1
Dean Logan
12400 Imperial Hwy.
Norwalk, CA 90651-1024
Don Ford, Ray Lutz, Raji Rab, Judy Alter
FB Live
Revised NoticeURL
Raffle using tickets
(was delayed a week due to missing ballots)
2018-06-14
9:00am
Alameda
5
1225 Fallon Street, Room G-1
Oakland, CA 94612
Lise Rehbock, Sarah Sato and Lux Tuttle
See Below.
NoticeURL
Raffle using balls
No inspection that all balls were included
2018-06-14
10:00am
San Francisco
10
City Hall Rm 48 (downstairs -- not 480!)
Julie Collins, JP Collins
Livestreamed Video by SF
NoticeURL
ten-sided dice
SF now livestreams their own random selection meeting.
2018-06-14
10:00am
Solano
19
675 Texas St, Ste 2600
Fairfield, CA 94533
Mark McGrath
FB Video of Draw
NoticeURL
Raffle using chips
No inspection of chips prior to draw but has counting scales. Only the manual tally is posted, not the random draw. Lee will suggest that the random draw is posted in the future.
2018-06-22
8:30am
San Mateo
13
40 Tower Road
San Mateo, CA 94402
"EI Volunteer" confirmed
NoticeURL Attached
10-sided dice
2018-06-21
9:00am
Marin
23
3501 Civic Center, Room 121
San Rafael, CA 94913-3904
Mark McGrath Mary Beth Brangan ?
NoticeURL
2018-06-25
11:00am
Santa Clara
6
1555 Berger Drive, Bldg. 2,
San Jose, CA 95161-1360
contact to ensure time/date is correct
after 6-15
??
San Joaquin
15
44 N. San Joaquin Street, Suite 350
Stockton, CA 95201
NoticeURL
NOTES
Alameda
Notes by Lise Rehbock
I got to the Register of Voters room 15 minutes early. They have a new system to sign up where it takes your picture and a badge with your name comes out of the machine. However, they still do not allow video recording and no picture and no note taking. It made me think that the system is more and more strict for the public, yet it's the public's money that they are using. Showing them the Cal. Gov't Code #54953.5(a) did absolutely nothing to them.
The snap shot data file is on their website.
There were two other volunteers: Sarah Sato and Lux Tuttle. It was nice to have them around because they helped in questioning the supervisor: Tim Dupuis, who was trying his best to be helpful by explaining to us what was happening. We were separated from the employees by a thick pane of glass or plastic that extended through the length of the room.
This time, the ping pong balls were outside the brass raffle drum. Tim Dupuis explained to us that they were 1156 balls that were numbered from 1 to 1156, and corresponded to the precincts. All the ballots were counted in there, votes by mail and provisional too. The employees put those balls in the drum. Then, one employee moved them around and got them one at a time, for a total of 12:

ping pong # 28, precinct # 203300
ping pong # 161, precinct # 244900
ping pong # 187, precinct # 300120
ping pong # 216, precinct # 304200
ping pong # 241, precinct # 311400
ping pong # 332, precinct # 354700
ping pong # 431, precinct # 424300
ping pong # 441, precinct # 432110
ping pong # 511, precinct # 457700
ping pong # 826, precinct # 9224300
ping pong # 909, precinct # 9430710
ping pong # 1153, precinct # 9880200.

After, we went back to the hallway-waiting area, and waited about half an hour for the results (pages) promised by Tim Dupuis, because we were not allowed any notes and they could have changed the numbers. I told him that in the County of Santa Clara, the public is allowed to take videos. He was defensive, then, and declared that the rules are there and every one has to abide by them, but he could not explain them.
We signed off and left after exchanging emails.
Notes by Sara Sato
Observations from today's random selection of precincts for the manual tally audit. There's very little transparency in Alameda County, and that does not inspire trust. Thurs., June 14, 9:00-9:45 am. I first checked in as required, giving my name, reason why I was visiting, my role, and my email address. All observers are required to have their picture taken and must wear a printed badge. The ROV's aide, Jeff, escorted another observer and me to the room where the selection of precincts was going to take place. There was a glass wall separating us from a table about 15 feet from us, a white board, and four workers. On the table were trays filled with orange ping pong balls. We were told the balls were numbered 1-1,156, each ball representing a precinct. I asked if we could have the list of ball numbers and precincts, and ROV Dupuis said he would consider that request. We were told that all ballots were counted and would be part of this process. We were not allowed to inspect the ping pong balls to verify that all precincts were represented in this draw. We were not allowed to take notes, or use cameras to take videos or still shots. A third citizen observer joined us. The four workers then placed all the ping pong balls into a metal drum that looked like it was used for bingo. One of the workers drew a ball, showed it to another worker and called out the number written on the ball. The second worker then looked up the number's corresponding precinct number, which he called out. A third worker then wrote both numbers down on the white board. We could see the white board, but the first worker didn't show us the first couple of balls. I asked Dupuis to ask her to show us observers the balls as she drew them, and from then on, she did. After all twelve balls were drawn and the numbers recorded, I frantically tried to memorize the ball numbers. Dupuis said he would take a photo of the white board for us, and make a copy of the list of precincts with the ones chosen for the audit circled. After about ten minutes Dupuis returned with the xeroxed precinct list. He showed us his cell phone picture of the white board as we checked that the numbers drawn were the same as the ones circled on the precinct list. One of the observers asked Dupuis why we weren't allowed to take videos of the process. He said that that was the policy. When pressed further, he said, "I'm just going to leave it at that. If it gets challenged, it gets challenged." For the next few days the ROV's office will be pulling the ballots from the selected precincts. Then the manual tally will begin.
Fresno
Notes by
Ray Lutz
:
9am Fresno Registrar of Voters. 2221 Kern Street, Fresno, CA 93721

went to this downtown location and discovered that the notice on the door said the random draw was done on 6/7.
Manual tally was to start today though at warehouse location.
Drove to warehouse. Video recorded our first encounter and then decided to just watch without the camera, although nothing was going on that was of any sensitive nature.
They had one tally team on a table far from where we could observe.
Most of the people in the room were doing ballot duplication.
They use the same equipment that is used in San Diego, but the scanners are used at the precincts.
They use a random number generator that is part of the GEMS system and is just one button press.
I explained that that method is not compliant with our need to provide oversight because the software could choose any precincts and no one would know.
This is the district that used to select precincts two months before the election, and therefore, was no surprise and they could be avoided by fraudsters.
Also discussed that we need the file -- the semi-final canvass. She said no, that she would do nothing that was not absolutely required by law.
She lightened up a bit and said that it was the prior registrar that was doing the random selection prior to the election.
Los Angeles
Notes by
Ray Lutz
:
Random draw was delayed from 06-07 to 06-13 due to the "missing 181,000 ballots".

Signed in and received badges at the entry counter.
Went to room 5224 as listed on Revised Notice
Met Judy Alter, long time volunteer from LA.
Waited with cameras and then walked into the adjoining room.
Started LiveStream as we walked in. No adversity about recording the meeting.
They have pre-printed raffle coupons with sequence numbers from 1-4100 (precincts and VBM) and from 6001 to 6120 (VBM Only).
Unroll sequenced coupons on tables so we could inspect them. Inspection is easy to perform because the coupons are left together, then ripped apart before placing in a raffle spinner device.
Mixed raffle device and then volunteers pulled 5 tickets each (and then four) to get 44 tickets.
Woman wrote down the numbers as they were pulled. Then, she read them back as we checked them.
Took picture of the tickets.
Then, they ended the meeting.

Note, that the sequence numbers were NOT translated to the precinct numbers at this meeting, and that step must be done with a FIXED translation list that is frozen PRIOR TO the selection process. Otherwise, they could manipulate the list to avoid precincts which have been modified by fraudsters.
San Luis Obispo
Notes from
Ray Lutz
:
SLO: 1055 Monterey Street, Room D-120, San Luis Obispo, CA 93408

Arrived just before 2pm meeting. I had my camera on.
They walked us back to the room where they were entering military ballots using touch-screen machine.
Registrar/County Clerk Tommy Gong, who is elected, came in and said I could not use the camera.
I said I had the right to use the camera due to state law.
He then called the sheriff.
Then county counsel came down and said that they decided I could not use the camera, and I was disturbing their meeting.
I negotiated a letter from the SLO County stating they were not allowing my camera in the meeting.

Sgt J. Cronin (Badge #206) Witnessed the agreement that they would provide the letter.
See Video of interaction with Gong. I also have audio of the final agreement stating that Cronin witnessed it.

I took camera to the car as Jill waited inside.
Then, we attended the random selection meeting.
they came out with all the slips of paper in a bowl.
I said we had to review that they were all in the bowl.
We took about 40 minutes to lay them on the table in order and found three batches were missing.
They add those in and then they could not object to our involvement.
They are using Dominion voting equipment which is a ballot image type.
I asked for the full batch report and they provided it. They are the first county to be compliant.
I gave them a big clap and they appreciated the acknowledgment to make up for the screw up in the selection process.
I got the batch report on a thumb drive they provided.
Sent a followup email to get the letter. Follow this on This page.
Solano County
Notes from Mark McGrath
I was not required to sign in or have a badge, it was very low key. All the chips were already in the bins when i came in the room so no I'm not sure if all were represented. They did briefly explain the difference of bins, but again i'm on a leaning curve here. He did give me some paperwork and I will look through it to see if there is a list.
Sonoma County
Went to the counter of Sonoma County's Registrar of Voters at 435 Fiscal Drive, Santa Rosa, CA 95403 by 9:00am on Thursday, June 7, 2018 to witness the 1% audit for the June 5, 2018 primary. I signed in at the front counter, was given an "Observer" badge and told that I must put my backpack in my car and that no phones or cameras were allowed, but I could bring a notebook with me. I replied that I thought it was legal to record public meetings. The woman at the desk, whose name I did not get, told me that "it wasn't considered a meeting." I asked for a copy of the Observer Guidelines and was given such. It was pointed out to me that #6. of the guidelines reads: "Use of cell phones, tablets, computers, cameras and other audio or video recording equipment or electronic devices is prohibited in all observation areas. Backpacks, large bags and folders are prohibited in the viewing areas. The Registrar of Voters Office will not be responsible for the storage or security of observers' personal belongings." (dated 5/20/18) I complied with the request to put my backpack in my car and then entered the office area, separated from the lobby by a half-size door. I then followed a man named "J.R." and two more employees to his cubicle. One employee left, then J.R. told us he was scrolling down on his computer to the "one percent random sample" and clicking on such file. J.R. explained that there is more than one page to the report because some measures or candidates did not get chosen in the run. I asked for a copy of the report and I was given one. The report is dated 6/7/18 and timed 9:05:40AM.
So apparently, Sonoma is completely out of compliance with their random draw. They don't choose randomly it seems.
Other information
We know that Sacramento and Fresno have NOT been chosing their districts appropriately (Fresno was chosing 2 months before the election and Sac was choosing manually).
Please let us know if you can volunteer! Contact Susan Schneider at susants07@yahoo.com
Random Selection Meeting Oversight PROCEDURE
Double check the date, time and location.
Show up early with video cameras, etc.
Do not take NO for an answer on video recording. Please try to have MULTIPLE people with video cameras.

If they do not let you in, try to assert yourself and use defensive sheet below to assert your right to record.
If you are not interested in civil disobedience, then comply with their requests but take notes so we can file a case anyway.

Get the FROZEN computer results that will correspond to the manual tally results. We call this the Snapshot because it probably will NOT be the end result.

You may be able to download these from the website of the election district, frequently called the SEMI-FINAL CANVASS.

Video Record the random selection meeting. Watch for sleight of hand! Use Tripod if available.
Make sure you take snap shots of the final selected precincts or batches.
Provide us (Citizens Oversight) with your video or upload to You Tube and provide the link.
That's it for this phase.
CHeck their audit
Attend part of the actual audit.
Pay careful note of what they do when they complete a precinct. Do they redo it if it is wrong? Rescan it?
Finally, we check the results of the 1% manual tally report with the precincts in the original report.
We can help with this final phase once we have gathered the data.
Examples
You can skip through these videos but watch for written comments added to the video at key moments.

(M1662) 2016-06-08 San Diego County Manual Tally selection meeting, June 8, 2016 -- Ray Lutz, Citizens Oversight, Save time and skip through most of the drawing part!

(M1853) 2018-06-06 2018-06-06 Random Selection for San Diego County, 2018 Primary -- RayLutz, CitizensOversight,
Can I record the meeting? YES!
Cal. Gov't. Code §11124.1.

(a)Any person attending an open and public meeting of the state body shall have the right to record the proceedings with an audio or video recorder or a still or motion picture camera in the absence of a reasonable finding by the state body that the recording cannot continue without noise, illumination, or obstruction of view that constitutes, or would constitute, a persistent disruption of the proceedings. (b)Any audio or video recording of an open and public meeting made for whatever purpose by or at the direction of the state body shall be subject to inspection pursuant to the California Public Records Act (Chapter 3.5 (commencing with Section 6250) of Division 7 of Title 1), but may be erased or destroyed 30 days after the recording. Any inspection of an audio or video recording shall be provided without charge on equipment made available by the state body. (c)No state body shall prohibit or otherwise restrict the broadcast of its open and public meetings in the absence of a reasonable finding that the broadcast cannot be accomplished without noise, illumination, or obstruction of view that would constitute a persistent disruption of the proceedings.
ALSO:
Cal. Gov't. Code §54953.5(a).

(a)Any person attending an open and public meeting of a legislative body of a local agency shall have the right to record the proceedings with an audio or video recorder or a still or motion picture camera in the absence of a reasonable finding by the legislative body of the local agency that the recording cannot continue without noise, illumination, or obstruction of view that constitutes, or would constitute, a persistent disruption of the proceedings.
So if they try to blcck you from recording, please RECITE THIS LAW to them and ASK THEM for their WRITTEN REASONABLE FINDING that it cannot be accomplished "without noise, illumination, or obstruction of view that would constitute a persistent disruption of the proceedings."
Your defense if they try to block you from recording!