Stop Nuke Dump
Direct link to this page:
https://copswiki.org/Common/StopNukeDump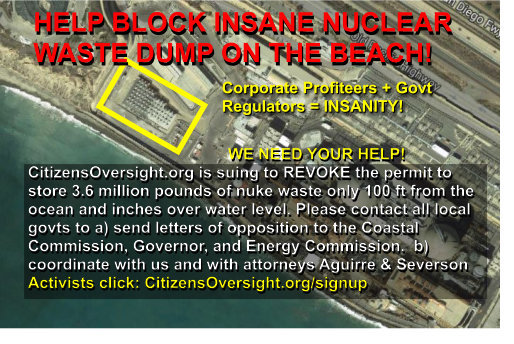 On August 28, 2017, a historic settlement agreement was announced to MOVE THE WASTE TO A SAFER PLACE
Navigational Aids
Our primary focus will be on the
Pendleton Option
-- i.e. leaving the waste on federal land but moving it inland about 5 miles and turning over responsibility to the DOE.
Settlement Agreement and FAQS on the settlement
Details on the lawsuit and 12,000 page release:


(M1764) 2017-05-17 Activists Sue to Block Plans to Bury 3.6 Million Pounds of Nuclear Waste Near California Beach -- , Democracy Now, Features Ray Lutz

(M1758) 2017-04-21 Politically Speaking: Dealing with San Onofre Waste -- GeneCubbison, SanDiegoNBC7,

(M1767) 2017-03-19 Why SCE keeps making bad decisions: No Nuke Dump! -- RayLutz, CitizensOversight,


(M1766) 2017-05-21 Aussie Surfer Leads the Charge to Protect Californian Coast from Nuclear Waste -- , 9 News Australia,

(M1762) 2017-05-11 California Coastal Commission Meeting in San Diego -- , CaliforniaCoastalCommission, Features DrTomEnglish, TorgenJohnson


(M1755) 2017-05-04 Oceanside Public Meeting on Beach Nuclear Waste Facility -- RayLutz, CitizensOversight,


(M1738) 2016-09-23 Critics Question Plans For Nuclear Waste Storage At San Onofre -- Nuclear expert says it's a 'witches brew of radioactivity' -- JwAugust, SanDiegoNBC7,
Upcoming Events
Background
Southern California Edison has proposed a new ISFSI (Independent Spent Fuel Storage Installation, AKA "Dry Cask Storage") to be built only 100 feet from the seawall on the San Onofre nuclear generation Station (SONGS) site, to store high-level nuclear waste. A total of 3.6 million pounds of waste is to be stored there for an indefinite period. Legal documents and details of the legal case against the Coastal Commission is included at these topics:
Images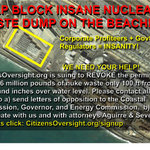 (Just attach your images to this topic and they will automatically be added to the gallery above!)
Summary of articles submitted (Add | All):
Discussion List
See ListServe for all email discussion lists and to add more.